Get Your Quote Now
Please enter your contact information below for a GSA quote.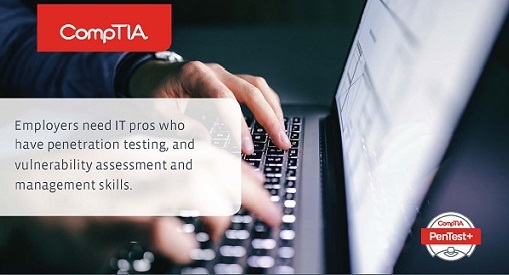 CompTIA PenTest+ for Penetration Testing and Vulnerability Management
CompTIA PenTest+ is a certification for intermediate level cybersecurity professionals who are tasked with penetration testing to identify, exploit, report, and manage vulnerabilities on a network.
PenTest+ assesses the most up-to-date penetration testing, and vulnerability assessment and management skills necessary to determine the resiliency of the network against attacks. Successful candidates will have the intermediate skills and best practices required to customize assessment frameworks to effectively collaborate on and report findings, and communicate recommended strategies to improve the overall state of IT security.
CompTIA PenTest+ is compliant with ISO 17024 standard and approved by the US DoD to meet directive 8140/8570.01-M requirements. Regulators and government rely on ANSI accreditation because it provides confidence and trust in the outputs of an accredited program. Over 2.3 million CompTIA ISO/ANSI-accredited exams have been delivered since January 1, 2011.
While there is no required prerequisite, PenTest+ is intended to follow CompTIA Security+ or equivalent knowledge and has a technical, hands-on focus. A minimum of 3-4 years of hands-on information security or related experience. CompTIA offers more certifications to help IT professionals achieve cybersecurity mastery, from beginning to end. Check out the
CompTIA Cybersecurity Career Pathway
for more information
888-665-0718