Get Your Quote Now
Please enter your contact information below for a GSA quote.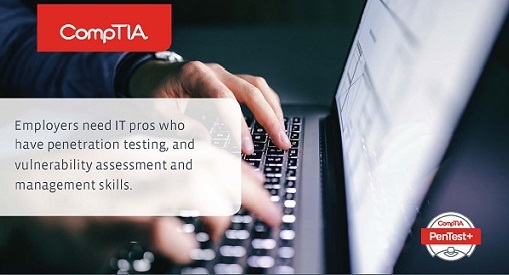 CompTIA PenTest+ for Penetration Testing and Vulnerability Management
CompTIA PenTest+ is the only penetration testing exam taken at a Pearson VUE testing center with both hands-on, performance-based questions and multiple-choice, to ensure each candidate possesses the skills, knowledge, and ability to perform tasks on systems. PenTest+ exam, which takes around 165 minutes, also includes management skills used to plan, scope, and manage weaknesses, not just exploit them.
PenTest+ is unique because the certification requires a candidate to demonstrate the hands-on ability and knowledge to test devices in new environments such as the cloud and mobile, in addition to traditional desktops and servers.
CompTIA PenTest+ meets the ISO 17024 standard. Regulators and government rely on ANSI accreditation because it provides confidence and trust in the outputs of an accredited program. Over 1.3 million CompTIA ISO/ANSI-accredited exams have been delivered since January 1, 2011.
While there is no required prerequisite, PenTest+ is intended to follow CompTIA Security+ or equivalent knowledge and a minimum of 3-4 years of hands-on information security or related experience. CompTIA offers more certifications to help IT professionals achieve cybersecurity mastery, from beginning to end. Check out the
CompTIA Cybersecurity Career Pathway
for more information
888-665-0718