Get Your Quote Now
Please enter your contact information below for a GSA quote.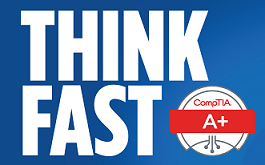 The New CompTIA A+ Core Series
Proven Problem Solvers for Today's Digital World
The new CompTIA A+ Core Series (220-1001 and 220-1002) provides a foundation for a number of different IT jobs and helps entry-level IT pros prepare for the jobs of the future.
In addition to topics you might traditionally associate with tech support, the new CompTIA A+ has an increased emphasis on cybersecurity, including malware, as well as cloud, virtualization and internet of things (IoT) network protocols and connectivity.
It also covers scripting so that help desk technicians and technical support specialists can interpret code to identify if it might be malicious or if it's supposed to be there.
The CompTIA A+ 900 Series will be available until July 31, 2019. If you've been studying for the CompTIA A+ 900 series, we would encourage you to stick with it. If you have not yet started studying or have not invested much time or money into your preparation, read more details about the
A+ Core Series
and see if it makes sense for you to change course. Just keep in mind that if you choose to pursue the 900 series, you must take both 900 series exams by July 31, 2019, in order to get your CompTIA A+ certification.
888-665-0718